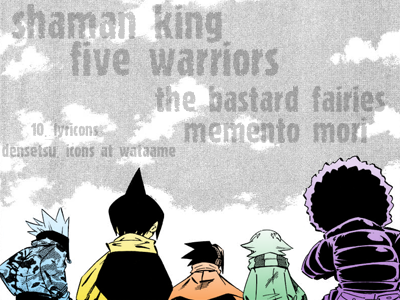 Username:
glossological/
densetsu_icons @
wataame
Subject: Five Warriors
Fandom: Shaman King (manga)
Lyrics: "Memento Mori" by The Bastard Fairies
Set: Yuuko (Elements Set)
Credits: resources post
Critiques: Sure.
Warnings: Spoilers for Shaman King manga



(

tomorrow you may be deadCollapse

)



. Please comment if taking any. And even if you're not taking them, comment to make Lycoris feel loved! &hearts
. Credit either
glossological,
densetsu_icons or
wataame. It doesn't matter which one of those, but please credit!
. Textless icons are not bases unless otherwise stated.
. Like what you see? Don't hasitate, watch!
. Wanna become an affiliate? Go here!
Current Mood: artistic
Current Music: The Bastard Fairies - Memento Mori